Found a Picture to Share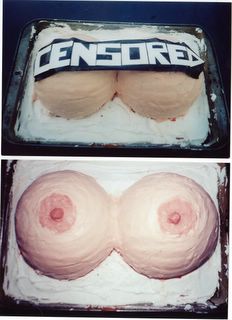 I made this cake! Isn't it funny? :o)
I actually made it for a pretend bachelor's cake, and then made one similar for a friend's birthday cake. He is a bouncer at a stripper joint, so I thought it would be appropriate.
--Anywho, I worked today until 5, even though I was scheduled to leave at 3, and tomorrow I am supposed to close on my own..? ::mumbles something about an evil dumb boss who can't schedule worth a damn:: Tomorrow evening should be interesting to say the least.
--After work, I went to Bally's and did my normal routine of Steam Room, Pool then Hottub. It's the reason I joined, I just hope I can keep going, and even start going more often.
--I'm feeling kind-of lonely today too. I was sitting in the warm bubbly water of the hottub, and thinking about how I wish I could spend some quality time with my girl in some warm bubbly water, or watching stars and cuddling, or something else..but living so far away...I don't know what I was thinking. I am attached to her, but I may never meet her in real life. I am a hands on kind of person, meaning I thrive on physical contact: holding hands, cuddling, kissing, things like that..I don't even mean sexual stuff..We'll see what happens.